Quality Without Compromise
From the fields to your produce department and ultimately your customer's plate, Coastline works to ensure a level of safety and quality that you can count on without compromise. Our Quality Assurance program begins in the field and continues through distribution to ensure maximum customer satisfaction.
The Coastline management team and staff are vigilant about staying abreast of industry developments, and actively participate in industry boards and associations to help establish critical industry standards and government initiatives related to food safety and traceability.
Our company-wide food safety culture is reinforced through training programs, technical enhancements evolving from industry best practices and recognition of compliance within company processes and procedures.
Please contact us with any questions or to request additional information regarding our food safety programs.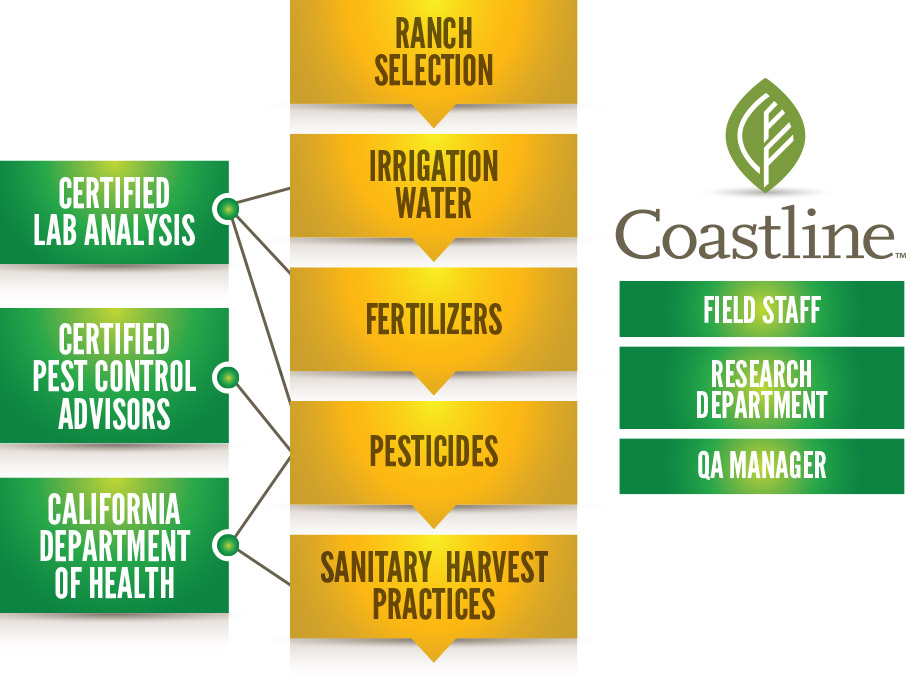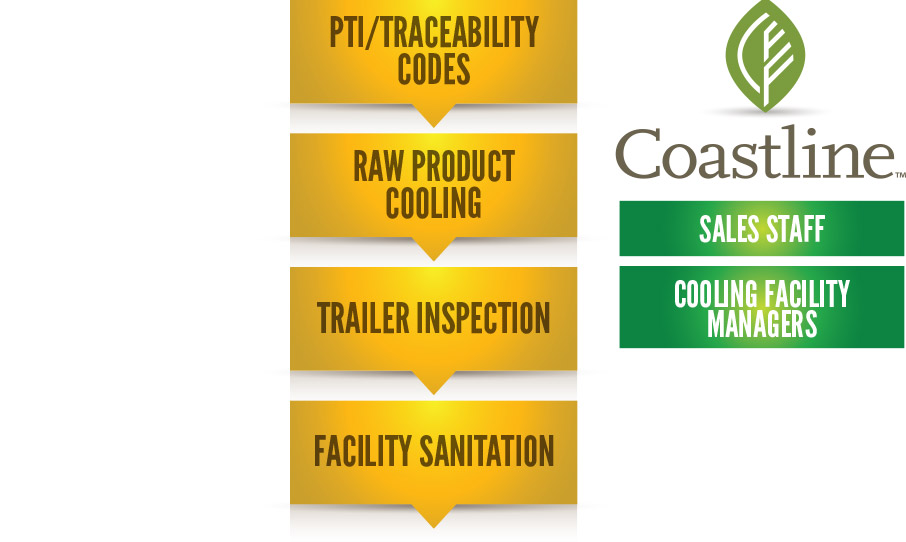 Food Safety Programs
The foundation of Coastline Family Farm's food safety program is based on Good Agricultural Practices (GAP), Good Manufacturing Processes (GMP) and Hazard Analysis and Critical Control Points (HACCP) at different stages of the production cycle to ensure food safety compliance is being met.
Good Agricultural Practices
Originally compiled by the FDA and USDA and later supplemented by the California Leafy Greens Marketing Agreement (LGMA), the Good Agricultural Practices (GAP) guidelines promote industry processes and procedures that help ensure safe products and minimize the potential for product contamination.
Coastline Family Farms is a member of both the California and Arizona Leafy Greens Marketing Agreements and sells product in compliance with LGMA food safety practices.
HACCP
HACCP and Good Manufacturing Processes (GMP) are applied across all processing facilities. Coastline developed its HACCP program using guidelines established by the USDA and FDA. Key elements include:
• Conduct hazard analysis to identify hazards and the needed controls
• Identify critical control points and establish limits for each control point
• Establish monitoring procedures and corrective action steps
• Establish verification procedures to ensure corrective steps have been taken
• Document actions to enable auditing
Audits
Our food safety programs are evaluated by independent, third party auditors that follow strict policies and procedures to ensure optimal food safety. See below for recent audits.
Please contact us with any questions or to request additional information regarding our food safety programs.